There's no secret about how big of a Delain fan I am. They are bringing it every time with new albums mixing heavy songs and softer ballads, with pop and electronic influences. Their shows are always a good party. But more than anything, they are just the coolest bunch of people. So of course I jumped at the chance to ask Martijn Westerholt more about their brand new album, Apocalypse & Chill, to discuss music and life and so much more.
Simona: Congrats on the new album and the tour and everything. Something that has surprised me personally the most about it was the very techno and synth infused beginning of the album, which really was stronger than on any older material. How did that come to be?
Martijn: That's funny because I hear that a lot. But you know, when you make music, you kind of are in your own bubble, so you don't really notice those things. You just write a song and you go with the flow. What I do know is that we  used elements we always used. However, we used more of it. I think that with the arrangements. But it's also with Charlotte's vocals, with the choirs, with the electronic elements, with the guitar riffs. So I think all the elements are there and it's the same, but there's a little bit more of everything.
Simona: Listening to the album, I realized there were a few clusters of songs in terms of sound and message. Did these come about from having different periods of writing and recording?
Martijn: You know, my role is also to be the producer. I always say, OK, I want heavy and hard songs, because those are the most difficult to write for us. The ballads and the more soft stuff comes easier. So we started with the more heavy stuff and a song like Burning Bridges, but also a song like Masters of Destiny, which is just more intense. But that's what we started with. And in the later period, we we did more the softer stuff.
I think the time factor really did kind of separate the the style of the songs a little bit. Normally we always write in one go, and then we record in one go, the classic way of doing it. This time we split everything in pieces. So that might have helped as well.
Simona: What song from the album came together the easiest and which one gave you the most trouble?
Martijn: Masters of Destiny was really easy. I wrote the instrumental part really quickly and then I gave it to Charlotte and she gave back pretty quickly as well. Vengeance is Mine was a really hard one. Its internal structure was really hard and also with guitar riffing. It just didn't click entirely and we worked a lot and changed a lot to make it work.
It's funny because you can never predict when the song is easy or when the song is difficult just sometimes it just is so. Another easy song would be Ghost House Heart. I first thought it needed more flesh to the bone, but no, it doesn't. It's just short. People say "oh, it's too short", sure, but that's kind of a compliment because it makes people hungry. But I did put it aside for a long time before finishing it and making a decision on it. The Greatest Escape was difficult because it has kind of two parts and we needed to connect them. It was kind of difficult.
Simona: When you have a song like this one and you just can't seem to connect it, how do you get about getting through that? I wouldn't say it's a writer's block, but maybe a composer's block?
Martijn: How we work is that we have a little concept. So, for example, a verse and the chorus, or a riff and a chorus, or something like that. And we have let's say twenty-five of those. We then sit together and say, okay, let's work on that. I feel like working on this one, so we start working on that one. And really quickly if we try to elaborate on it and nothing comes, then we don't even give it a chance to be finished. We just write it off. So we have songs laying around because they don't make it. If we work on it and something comes up and there's little more flesh to the bone, then it goes out. I often finish it with writing in little parts and then put the structure together. Sometimes I go to Timo and then we have the parts but not the structure complete, so we finish that. That's a little bit how we work. But we don't really have songs where we think, oh, we really want to finish it, if only we knew how. Then we just write it off and don't give it a chance.
Simona: You don't force it.
Martijn:  No, because it has to, you know, it will sound forced.
Simona: Is there any song on the album you would've liked to have as a single, but it just didn't make the cut?
Martijn: Oh that's a good one. Yeah, that's a good one, because I never thought about it. We kind of made four singles with One Second and with Ghost House Heart, Masters of Destiny, and Burning Bridges. But if there would be another one, one I really, really like is Creatures. Because Creatures has a very gloomy guitar riff. We called it the Amon Amarth song because of that. But at the same time it's also not very heavy because it's almost like The Hurricane on our previous record. It's almost a ballad, but it has really heavy duty elements and it's a really weird combination, and I really, really like the sound. When we play it live, it really touches me. So it wouldn't  be the first choice as a single, perhaps, but for me, it's kind of it's nice.Simona: I asked because sometimes some songs from different album get forgotten, or I would not say forgotten, but that they are not as highlighted.
Martijn: No, it's true. But the good thing about that is that a lot of those songs  become audience favorites when you play them live. And when it works really well, you keep playing them.
Simona: How has it been taking the album on the road with the UK tour?
Martijn: Well, I was really pleasantly surprised when we played the stuff live because they really work and that's never a given. You know sometimes you have songs on an album which work really well in an album but not live. Sometimes it's the other way around. We have a song, for example, Don't let Go, which was kind of a bonus track on The Human Contradiction. But live it always creates a party and it puts a lot of energy out there. I guess that's that's a good example.
But I think Burning Bridges works really well. It's really intense live. I always put a softer song after, because any song you have after will always sound less heavy than Burning Bridges itself. It will always lose, so that's kind of funny. But so far, the crowd really likes the songs and this is a kind of surprise. Whenever you do a new song live, you know, you worked on it for a long time and then you put it up on stage for the first time. And it is a surprise if it will work. So far, yeah, really good experience with it. I'm really, really pleasantly surprised.
Simona: I know you sometimes play a couple of songs way before the album was out and showcase them. Would you ever go back and change something to the songs after their life debut?
Martijn: Yes, actually, that's a very good question. Not a lot of people asked. We had for example for the song Turn The Lights Out and we even had it with songs in the periods of We Are The Others, where we changed Get The Devil Out Of Me, for example. We changed the entire chorus. And it's funny because indeed sometimes when you play a song live you notice certain things. For example, that song is too fast and you make it slower, so we did that a couple times. From our debut album there's a song called Shattered, and we almost played it faster live. And now the other way around, we played Ghost House Heart in the UK for first time and it sounded rushed. So I  stretched it down with a couple BPMs. And now it sounds better. It's really funny.
Simona: Now that we talk about like creating the music and presenting it live, how separate is art from entertainment in your view? Not just for you in Delain, but in general.
Martijn: That's a that's a difficult question. I think it will offend people but I will say that I think that art is entertainment, but entertainment sounds a little bit too light for some art. Do you know what I mean? But in general, art is to amaze or inspire people, or make people think. And to me, that's kind of what makes life interesting and does entertaining. The word entertainment is almost like Bugs Bunny with a hat.
With our music, what I sometimes struggle with is that, for me, a show is successful when people will go crazy and the roof blows off, so to say. But there are also people who don't really express themselves like that and just stand there and take the music in and enjoy it just as much, only it's more difficult to see. Sometimes I kind of measure the success to the amount of intensity I get back from the crowd. But that's not always trustworthy. So, to say, OK, we need more "party" is not always good, because some songs are too serious for party in our genre. That's kind of always a little bit of a struggle. Therefore, in a sense, I also kind of make this sequence of the setlist and I've tried to make a flow in that. We start with the big bang and then we have some serious songs. And then in the last part of the set we go to the party songs. So there's kind of a flow in the set and that's what I've tried to do.
Simona: With The Gathering and Don't Let Go.
Martijn: Exactly, We've never played The Gathering as a first song.
Simona: Too much :)) people would then be able to handle it.
Martijn: No, you're just sober or something, you know?
Simona: What was the first time you thought of yourself as an artist?
Martijn:  Oooh, sometimes I still don't think of myself as an artist. That's a good question, when did I think of myself as an artist? I think when I played live with Within Temptation on Dynamo, where we had the backstage pass say "no artists, just talent". And I thought of what it said, just talents. Like, oh yeah, so I'm regarded as an artist. But I don't know if I see myself as an artist. Good question. I'm not usually thinking like that for myself.
I also remember that people can look at you differently when they know  you are an artist or make music. People experience a bit of magic. I also have that with … let's say Star Trek. I love Star Trek very much. I am Trekkie. Definitely. That's magic. But if you meet an actor like that in real life, that magic is kind of gone. You know what I mean? That is how people approach me and I think and like unjust human being. But for them, it's a special moment. I don't want to take the special moments away from them. Those are special moments, to see how your music touches people. I mean, what bigger compliment can you get. That's  really beautiful.
Simona: Finding out those are just actors or musicians is the best case scenario. There is reason why we have a saying "never meet your heroes".
Martijn: Its funny. For example, Tuomas Holopainen is a good friend of mine. And when I met him for the first time, I was like "I'm a really big fan of your music" and he said "no, I'm a really big fan of your music". And that was so weird.
Simona: Like the Spiderman meme.
Martijn: Yeah, really funny. And at some point, he said, for example, I don't want to meet Hans Zimmer. He had a couple of moments when he could meet Hans Zimmer. The reason he didn't want to meet him is that he wants to keep that magic there.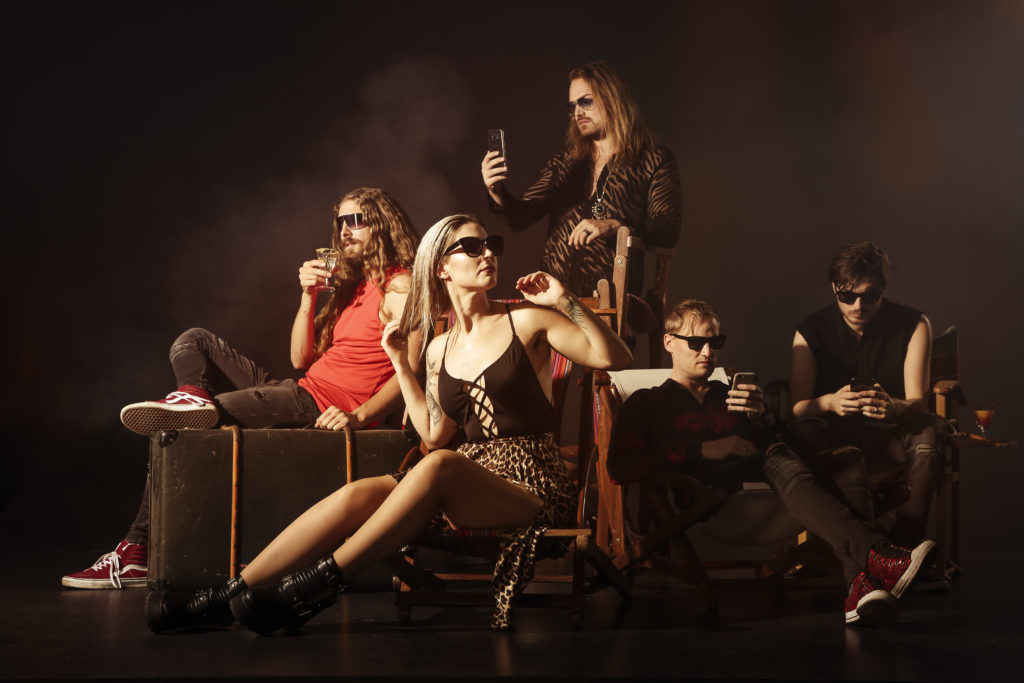 Simona: Are you personally an Apocalypse& Chill kind of person or are you more worried than cynical?
Martijn: I'm actually an optimist. Also, when I look at the world Apocalypse& Chill for me is not judging. It's more like observing. It's just very interesting to see the two worlds. One, like, for example, the social media, where you see really awesome pictures of people's lives, where it looks really cool. On the other hand, there are always articles where you see Australia on fire or California. And it's the same world, which is kind of fascinating. It goes without saying that I don't like it with when forests or houses or things are on fire. Not at all. It's terrible. And I'm kind of worried about global warming, which I think it's scary. But then again, I am also very optimistic because the best feature of the of the human race is that it's so adaptive. There's not a single specie on here which is as adaptive as the human race. I kind of have faith that we will solve it. I hope so, at least. That's more who I am.
Simona: Are there still any music acts you're excited to see?
Martijn: Oh, yeah. Rammstein. That's a big experience and I am always excited to see them life. Nightwish is another example, but that's more because I know them personally and I like the people very much. And I love the music, but it's more of a weird position. The same is with Within Temptation. I'm so excited to see them, but that's family and I want them to have success. But also Sabaton, for example. I really admire how those guys build their bands and what kind of spectacle they make. And I'm a history addict, I love history. They are very much about military history, which I find very interesting. So, yeah, I am excited about it.
Simona: Lastly, what are your best tips and the words of wisdom when it comes to traveling?
Martijn: Well, I think you get life experience when you travel because you see how other people live. And if don't only go to the tourist places, but also go where the tourists are not and try to soak in that place and the space, it just keeps you life experience. I don't have a phrase for it.
Simona: It's called going off the beaten path.
Martijn: Yeah. I am totally  with that. Absolutely.
Simona: Yes! Thank you so much for the interview!