When I think of traveling, two words come to mind: happiness and diversity.
I have always thought that this world is too small to stay in one place (or, to, you know – just work and pay bills). But while we are really eager to discover new faraway places and jump into a totally new world and culture, we sometimes wrongly disregard the closer ones. Our next unknown destination could lie next to us, but not trigger our curiosity because it doesn't seem foreign enough.
Somehow (and some of you may resonate with me here) I used to not consider my own country so interesting to visit, thinking that I knew everything or just because it was one too easy goal to achieve. The truth is that you never know enough until you go there. Romania can be enchanting thanks to a bunch of small, simple features which, gathered altogether, depict a beautiful country.
Bucharest used to be known as the "little Paris", while these days it has become "the lively and chaotic capital with cheap beer"; Brasov is where Dracula lives, a gem in the heart of Transylvania. Then there are many outstandingly beautiful areas of Romania that tourists appreciate for the tradition that is still kept in place, like a pocket of time.
Traditions are kept in the North (maybe "the North remembers" could have more meanings, if you think about it). In Bucovina and Maramures one can find the real "lively" spirit of Romania and its real wealth: the fully green hills and valleys and the warm-hearted people. In my last trip I got to know them all.
First stop: Putna
Putna or Stephane the Great´s place
I couldn't think of a better place as an opening to this journey. It introduces you to a peaceful and story-like atmosphere. Its two main elements are the hills and the Monastery. They are peaceful and, literally legendary at the same time, as the region plays an important role in History.
The Monastery of Putna was built under the orders of Stephan the Great, ruler of Moldavia between 1547 and 1504. There is a nice story behind it, which also connects the two key attractions I have just mentioned. On the upside of the hill there is a big cross, which lights up at night and represents an important symbol of the construction of the Monastery. It is said that Stefan aimed with his arch from that spot, saying that, wherever he would shoot, he would build the abbey. I also recommend climbing up until there. It is totally worth it and you can follow Stephan´s steps. I would leave the arch home though…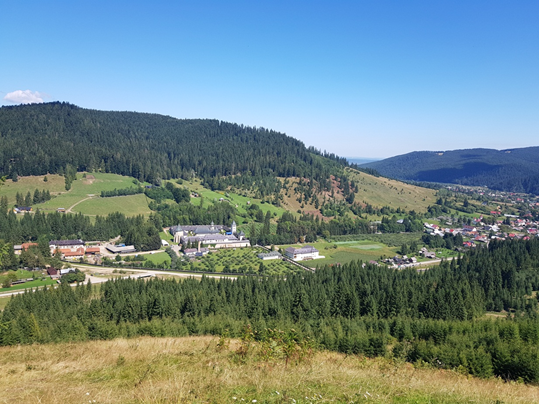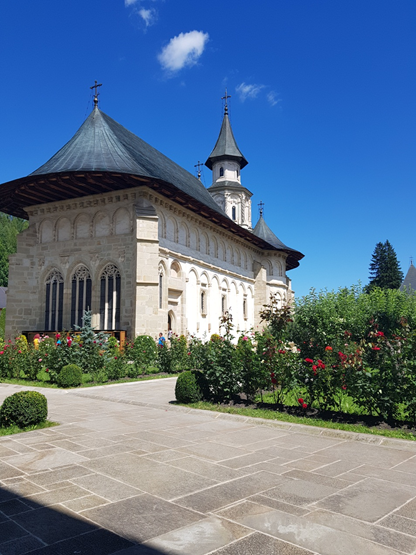 Vatra Dornei
Imagine arriving to a wide space that looks like the scenery we usually create in our head when we want to calm down and think of something relaxing. You know…when you imagine running on a large field, on a sunny day, feeling free and happy in the arms of the nature. This is exactly how it feels once you drive closer and closer to the heart of Bucovina. More than Vatra Dornei itself, as a city, there are the surroundings in there that totally grasp you. Oh, and their food. They have really good "ciorba".
The accommodation in there makes a difference also, as most of the guesthouses are actually chalets located outside of the city, as high on the hill as possible. That way you can enjoy a beautiful view in the morning while drinking your coffee or watch the stars at night. They are usually way more visible from a large field. A good reason why the cabin we stayed at was called "the Dream House".
Our stop here included more and more amazing landscapes to admire. The chairlift really lifts you. It lifts your state of mind. The road to the top of the hill with the chairlift, between trees and large areas of fields opening in front of us every five minutes, made me realize I hadn't felt so relaxed in a long time. Arriving there, we were welcome by traditional Bucovenian music and an appealing smell of "mici". It couldn´t get more Romanian than that. It is also a great place for trying horse-riding and visiting a stable.