On February 4th 2017, a piece of history was written in the dark book of Portuguese gothic metal act Moonspell. Lisboa Under The Spell was recorded that day at their show in Campo Pequeno Arena and it was released as a live DVD not so long ago, on August 17th via Napalm Records.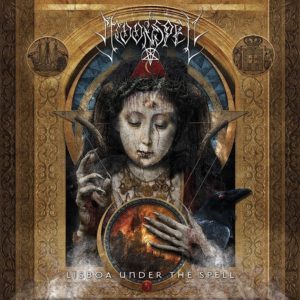 Here is Moonspell's statement: "We are thrilled to announce the release of our brand new live DVD/Blu-ray/3CD live album, entitled 'Lisboa Under The Spell'! It was recorded live on our breathtaking capitol city of Lisbon and it's nothing short of an epic trek of more than three action-packed hours! We have played 'Wolfheart', 'Irreligious' plus 'Extinct' in full, invited a bunch of guests, summoned our biggest strength to be up to the task, and it feels awesome to unleash a long-awaited live release from MOONSPELL. This edition will be full packed with amazing material, bonus CDs from the shows, a in depth documentary about the band, top sound, dramatic flair and a human picture of thousands of Portuguese witches and wolves under the spell. A great document of what we are on and off stage. Don't miss out and visit Lisbon through the eyes of MOONSPELL fans and the genius work of director Victor Castro."
Before diving into the actual details, I must say that, in my humble opinion, the title of this DVD sums it up pretty nicely. I have seen Moonspell in a live concert twice and it felt indeed like being under a spell. From my point of view, frontman Fernando Ribeiro is one of the most charismatic figures in the metal scene. He is simply a mountain of passion on stage, always knowing how to connect with his audience. He never leaves blank spaces during their performance and he manages to make you feel like being a part of the show. You would think that after 25 years of performing on stages all over the world, one might get tired of doing the same thing over and over again, but not these guys. The force of connecting with everyone, the feelings driven by their music, the passion for performing are still there and they are doing a hell of a great job, hopefully for many years to come.
I am by no means an expert when it comes to videography, but Victor Castro managed to direct and create a very interesting and detailed documentary and he also managed to feature the lives of these five artists outside their comfort zones, meaning the stage, showing us a glimpse of their everyday lives, since we sometimes forget that the people we usually cheer for during shows, are also… regular human beings. The lightshow and the color scheme are well-chosen, the sound is accurate and pleasing, decors change accordingly and the audience is explosive. I do believe those 4000 fans were very lucky to be there.
And thus the show begins with the first act, Wolfheart, their debut album from 1995, played in its entirety. I am pretty sure this was a treat for fans of early Moonspell and also a delight for those who couldn't be present at past tours. I don't want to give away too much, but I have to mention the Vampiria moment. This whole album is a work of art, but Vampiria seems to be one of those performances that can put one in a trance and Fernando's voice… oh boy. From this act, Napalm Records released a video of Alma Mater, one of the songs that can shake you to the core and I can only imagine how special it is for the Portuguese audience.
Act II follows with another favorite of Moonspell fans all over the world and that is Irreligious, their 2nd album released in 1996. Raven Claws brings the lovely Mariangela Demurtas on stage, singer of Tristania and also wife of Moonspell guitarist, Ricardo Amorim. I really loved the way Fernando presented her: "born Italian, but the owner of a Portuguese heart". Who says these guys can't be romantic? But enough with the cutesy things, since the following tracks are some of the forte points of this whole show: Mephisto, Herr Spiegelmann and, of course, Fullmoon Madness. A mix of fire, strength, mystery and the most delightful madness, will take over you while enjoying this part of the concert. Napalm Records also released a video for this act, featuring Herr Spiegelmann, with a very special moment as you can see below. This song was inspired by the book The Perfume, written by Patrick Suskind.
Act III is represented by Extinct, their tenth full-length album released in 2015. The pace is changing, shifting into a more modern Moonspell sound, but nonetheless, a very catchy and intriguing chapter of this band's history. I remember there were a lot of upset fans back in 2015, who disagreed with the adopted changes in style, but I am pretty sure this album grew on them in the meantime. I was hooked on it since the first listening session and I believe this album was a successful musical exercise, proving that Moonspell is capable of bending the rules, adding new elements to their music, while still remaining on the same track that gained them notoriety throughout the years. Being capable of such changes only proves a great deal of growing up as an artist. Moving on, there are a few surprises featured on this act as well, but I will let you discover them on your own.
All in all, this DVD is very enjoyable to watch and if you are a Moonspell fan, you will surely treasure it. To be performing for 25 years is really not something to be ignored, especially in this difficult metal scene. Moonspell managed to gift us a show to be remembered. It all ends with Fernando voicing some of his thoughts after the show has ended, but you will have to check it out by yourself. Having said this, I am looking forward to their journey and hopefully to another concert since they have released their concept album 1755, on November 3rd 2017. Fingers crossed!
DVD & Blu-Ray:
I  ROCKUMENTARY – band documentary by Victor Castro
II WOLFHEART SHOW – full album played live
Wolfshade (A Werewolf Masquerade)
Love Crimes
Of Dream And Drama
Lua D'inverno
Trebaruna
Ataegina
Vampiria
An Erotic Alchemy
Alma Mater
III IRRELIGIOUS SHOW – full album played live
Perverse Almost Religious
Opium
Awake!
For A Taste Of Eternity
Ruin & Misery
A Poisoned Gift
Raven Claws (Feat. Mariangela Demurtas)
Mephisto
Herr Spiegelmann
Fullmoon Madness
IV EXTINCT SHOW – full album played live
All Gone From The Wild (Intro)
Breathe (Until We Are No More)
Extinct (Feat. Carolina Torres)
Medusalem
Domina
The Last Of Us
Malignia
Funeral Bloom
A Dying Breed
The Future Is Dark
V  MAKING OF – show day
VI GALLERY – live and backstage pics
Get your copy here:
https://www.moonspell.rastilho.com/highlights/
https://shop.napalmrecords.com/moonspell-lisboa-under-the-spell-deluxe-box.html
Review by Cristina Țurlea